Answers to the most frequently asked StampManage tech support questions. See the StampManage manual Troubleshooting section for additional support information.
1/ StampManage is sluggish when trying to select items from the menu, switch to a new category, etc..
This can happen if you have entered several thousand stamps into the program. This can be fixed by turning off the Status Bar (under the View menu) and/or stop showing the thumbnail images. You can always show the images and status bar totals when necessary.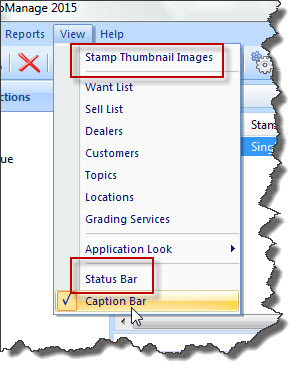 2/ My Registration code was accepted. But now every time I run the program I have to re-enter my registration code.
Instead or running the program normally, right mouse-click and then select Run as administrator. Then enter the registration information. You should then be able to run the program normally after this is done (see screenshot below)
<![if !supportLineBreakNewLine]>
<![endif]>
3/ The program will not accept my registration code
In most cases you should have received an email with your activation code. It will look something like this:
Try to copy and paste the username and code directly from the email into the registration dialog. Note the username MUST be entered exactly as shown in the email or the back of your StampManage manual, you cannot make up a new username.
<![if !supportLineBreakNewLine]> StampManage crashes on startup or When I run StampManage I get a pop up message that says, "Unable to initialize DAO/Jet db engine". What does this mean and how do I fix it?<![endif]>
You can fix this by downloading and running the following Microsoft Program:
http://dl.filekicker.com/send/file/203495-VHQT/jet-fix.exe
4/ I cannot run StampManage, my anti-virus program says the download/program contains a virus.
This is a false positive, once in awhile an anti-virus program incorrectly flags the licensing code in our programs as being a virus. The resolution to this problem is for us to contact the anti-virus software developer, they usually release corrected virus definition updates within a few days. The licensing system we use is also used in thousands of other software programs so the chances are that the problem has already been reported multiple times.
5/ I cannot download StampManage, the download does not seem to finish or Run after being downloaded.
This could be due to a virus false positive (see answer 3 above), the anti-virus program will not allow the download to be run or saved to disk. It could also happen if the download does not complete due to problems with your Internet Service Provider or our file download site. In this case you may see an error message: "Please Insert Disk #2".
If the file downloads but does not seem to run, please make sure there is not a window asking for permission to run the download file. This window may be hard to notice if you have several windows open at a time.
6/ I have purchased a new Computer. How can I install StampManage on the new computer and retain all my data and images?
Here are instructions on moving StampManage to a new machine:
If you are moving your data from a version of StampManage that has the Backup and Restore features
a) Install StampManage on your new machine.
b) Backup your data on the old machine using FILE > BACKUP DATABASE...
c
) Select FILE > MANAGE BACKUP FILES... and copy the ZIP file you just backed up from the old machine to a folder on your new machine.
d) On your new machine, run StampManage and use the RESTORE command to open the ZIP file you copied over in step c.
All your text data and images should be imported into your new installation of StampManage.
If you are using an older copy of StampManage on your original machine, that does not have the backup and restore commands:
a) You should install the program on the new machine.
b) Then copy the STAMPDATA.MDB file from the old machine to overwrite the file with the same name on the new machine.
To find the location of your STAMPDATA.MDB file and images on your old machine, select TOOLS > PREFERENCES from the main menu.
The Database Directory and Collection Stamp Images settings show where your STAMPDATA.MDB file is and where any images you have attached to your collection records are stored.
c) If you have been attaching your own images to stamp records, copy all the JPG files in the StampImages subdirectory to the Stamp Images folder on your new machine StampManage.
To quickly open the folder where StampManage stores the data file and images. Select FILE > GOTO DATA FOLDER or FILE > GOTO MY IMAGES FOLDER from the main menu.
Note: After selecting FILE > GO TO DATA FOLDER, you must exit StampManage before replacing the STAMPDATA.MDB file with the file from the old machine. StampManage locks this file while the application is running..The location of the STAMPDATA.MDB file is in the data folder as shown in the program preferences. If you can't see the data folder above, This may be because Windows hides some directories by default. To change this:

In Windows Vista:

http://answers.yahoo.com/question/index?qid=20090106205943AA2cCsq

In Windows XP:

http://www.askdavetaylor.com/display_hidden_files_in_windows_xp.html

In Windows 7:

http://www.bleepingcomputer.com/tutorials/tutorial151.html

We have created a video that shows how to move an old StampManage data file for use on a new machine using StampManage.

7/ I just registered my StampManage software, and when I went to the "Add Stamp" tab, I do not get a full screen, and I am unable to use it. .

2011 and later versions of StampManage has a command that will fix this. Select Tools > Reset Add Stamp Dialog window size settings from the StampManage main menu.

If you are using an older version of StampManage:

a/ Run a program called regedit.exe

Start > Run... > regedit.exe

Note: for Windows 7 and Vista, just type regedit.exe into the blank search box you will see when selecting the Windows button at the lower left corrner of your screen.

b/ Go to the section

HKEY_CURRENT_USER\Software\Liberty Street Software\StampManage 20xx

c/ Delete the section:

AddStampDlg

Make sure the program is closed when you do this. Then re-start and see if the problem is fixed.

8/ I have been using a discontinued or competitor's product and wish to switch to StampManage. Can I import my data from xxx into StampManage?

We get this question alot, either because a customer was using a discontinued program or software that does not support 64 bit operating sytems. Unfortunately, our major competitors use encrypted or obsolete file formats to store data, so creating a working import feature would be too error-prone or just not possible. StampManage stores data in an non-encrypted industry standard Microsoft Access data file. You can easily export our data to a Microsoft Excel spreadsheet as well.

9/ StampManage crashes randomly, or when I am using the Add Stamp dialog.

To fix this error delete the HEADERS.WCD file. You can search for this file on your computer. If you can't find the file it may be because it is stored in a folder that Windows hides by default. To be able to see the hidden folders, please see item #6 above for links that explain how to show hidden folders.

Once this is done, search for the HEADERS.WCD file and delete it when you find it.

10/ When adding a block of 4 stamps. Should the quantity be set to 1 or 4?

The quantity should be set to 1 and the format should be set to "Block of 4". 2011 and later versions of StampManage has values for blocks of 4 for many stamps.

Suddenly, without warning, when I call up my stamp collections, no individual stamp data is displayed in the upper right pane. If I click in this blank area the bottom 2 panes go blank. Likewise when I open up the add stamp feature no individual stamp data is displayed in the upper right pane.

Do you see any column headers in the upper right window? If not..from the main menu select TOOLS > PREFERENCES

Select the

COLUMNS tab.

Click on the RESET button. Then click OK and see if this fixes the problem the next time you go into the Add Stamp dialog.

11/ I have found errors in the StampManage program or I wish to add some new varieties/images into the program database. How can I do this?

Use the

Stamp Data Manager

feature under the

Tools

menu.
See the tutorial video below to learn how to use the Stamp Data Manager
You can also change variety information for any stamp in the program by right mouse clicking on the stamp and then select Edit
Stamp Variety Info...
from the popup menu.
To submit any changes or new data / images you have entered. Choose
If you do not have the 2011 or 2012 version of StampManage. You can still submit changes in the following way. To submit any changes made to text data, backup your data (File > Backup Database...). Then choose (File > Manage Backup Files...) and email the most recent ZIP backup file to:
libertyst@gmail.com
To submit any images you have added. Select (File > Go to StampManage Images Folder) from the main menu.
Make sure your folder is in Detailed view and sort on the Date modified column in descending order. The most recent folders will contain the images you have entered. Each country has a different unique number associated with it.
Go into each individual folder, choose the images you have added, then right mouse click and select (Send to > Compressed (zipped) folder) from the popup menu. This will add all the images to a ZIP file. Email each ZIP file to:
libertyst@gmail.com
Q: When running StampManage, I get the error: "an attempt was made to access an unnamed file past its end."
This error means that the HEADERS.WCD file has been corrupted. Search for and delete the file and then run StampManage again. This file contains column configuration information. Deleting it will return the column settings to the default configuration.
Q:
When I tried to run StampManage I got a pop up message that says," Unrecognized data format, StampData.mdb".
This error means that the data file has become corrupted. Please ZIP the StampData.mdb file and email it so:
libertyst@gmail.com
we can usually repair the file and email it back. If the file is too large to email let us know and we can have you upload it using a program called DropBox.
Q:
I have upgraded from a previous version and still see the program icon for the previous version on my desktop, how can I get rid ot it?
Do not un-install the previous version, in most cases you can just right mouse click on the icon and delete it.